---
More on nurbs and Rhinoceros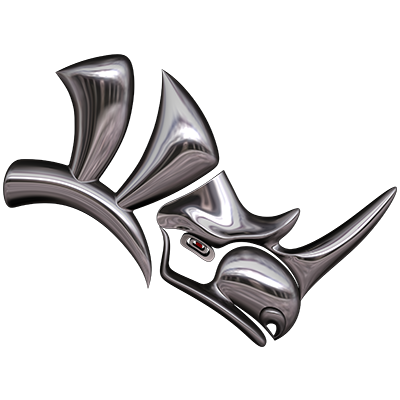 Unlike other modeling techniques popular among DCC softwares (Digital Content Creation) like poly-modeling in which you have lots of flexibility, in traditional NURBS modeling (Non-uniform Rational Basis Spline) there is no much room for mistakes and you have to think forward how you going to model the surfaces to avoid corrections some times requiring to re-do parts or the whole model, in this exercise you will learn to think in advance to minimize this type of mistakes.
Despite the challenges the NURBS modeling have, this mathematical model is used to calculate curves and surfaces and is the most used technique in CAD software (Computer-Aided Desing), CAM (Computer-Aided Manufacturing) y CAE (Computer-Aided Engineering) for it's presicion that cannot be matched by others techniques, essential feature to design and produce goods. Another important feature for designers is how easy to edit curves due to its highly intuitive and predictable use.
Rhinoceros 3D® is one of the most comprehensive, and powerful 3D modeling programs on the market, widely used in computer-aided design and manufacturing (CAD / CAM), rapid prototyping, 3D printing, and reverse engineering in sectors as diverse as architecture, industrial design (vehicle and boat design), product design (such as jewelry), as well as multimedia design and graphic design.
The latest version of Rhinoceros 3D® can be downloaded only for Windows and Mac computers (https://www.rhino3d.com/download). An evaluation version is available, which is a full version valid for 90 days.